(LOTS of Pictures of peoples Vans, Slow to Load, sorry!)


Below is a list of Owners of Chrysler Mini Vans Powered by The 2.5 Turbo engine.
Originally these vans were produced by Chrysler in 1989 and 1990 as a substitute for the V-6 engines built by Mitsubishi.


If you would like your van featured here, let me know! spaul@krausonline.com

I would like to provide more info on each one, and pictures, so send them!
If you have done any mods, or raced and have times let me know!

---
---
Paul Smith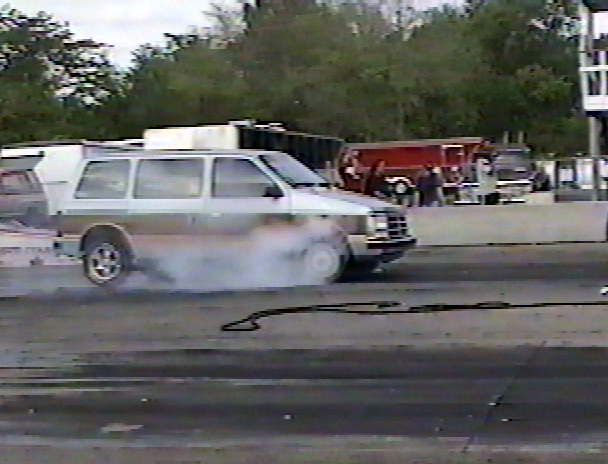 1989 Dodge Caravan
12.65 Seconds at 105.44 MPH in the 1/4 mile.
http://webpages.krausonline.com/spaul/index.html

---
Gus Mahon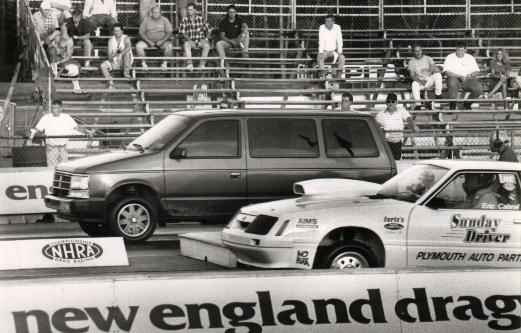 1989 Dodge Caravan
13.18 Seconds at 102.57 MPH in the 1/4 mile
http://pages.cthome.net/gus/mini.html

---

Paul Fosen, CLEAN 1990 Turbo Caravan, low miles, and like new! Runs a good, streetable, FAST 12 psi of boost!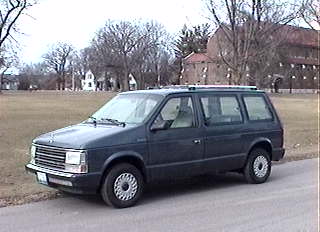 Contact me at: blk86trbo@webtv.net ,
Paul Fosen's web page, (a close friend and fellow racer)

---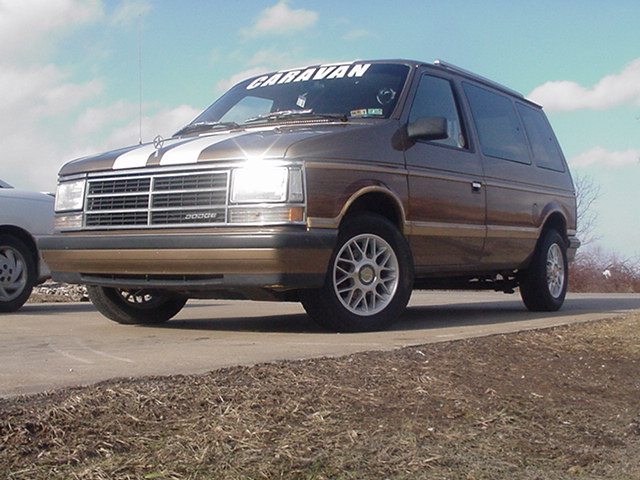 I originally got the van from my parents because the dealership was only going to give them $600. It is a 1989 Dodge Caravan T1 turbo with 139,000 miles on it and still running like a champ. Well I took it and I have done some stuff to spice it up. I put a Honda civic air intake on it, a glass pack with a tip, racing stripes, a JVC head unit and a 12" sub in a plexiglass box, an underbody neon kit and neons inside(about $400 total worth of neons), tires and rims, a tachometer on the A-piller, and a remote starter.
click here to see more pictures
---

Greg Dietrich
My van is a 89 Caravan Es. It is loaded with all the common power options and also has rear heat. No A/C just heat. I have never seen one with rear heat only in a short wheel base. It has 162,000 miles on the body and about 90,000 miles on the engine. I have not had time to make any modifications to it. I have just been driving it and using it as a family trip car. It runs great and I could not be happier with it.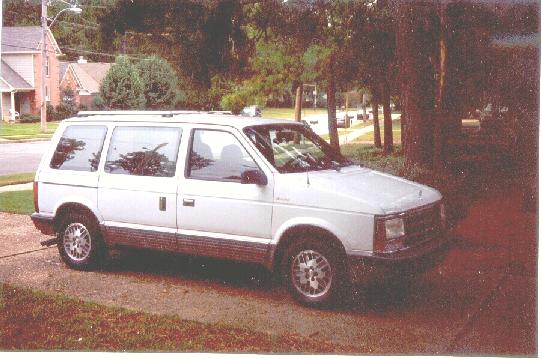 ---
Stan Watkins
stwradio@concentric.net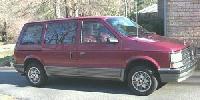 1989 Dodge Caravan, 5 speed, intercooled! Real Sharp custom work, Check it out:
http://www.concentric.net/~Stwradio/stanvan.htm

---
Dempsey Bowling
dempsey@xmission.com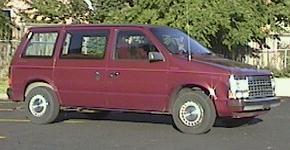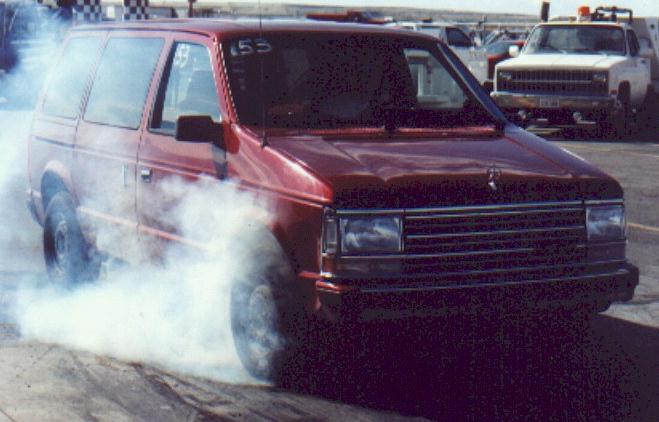 Dempsey's 1st Turbo van, "Clifford", an 89 Voyager SE Turbo, All stock, 190,000 miles.
15.799@ 85.5 mph. at 4500 ft elv.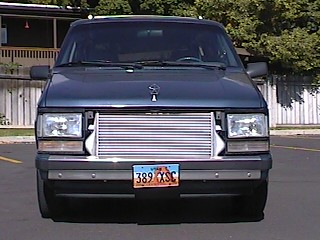 And this is his other Turbo van, which as you can see, has the ford power stroke intercooler installed.
It has run a best of 15.84 @ 85.4 MPH, with 3 inch exhaust, the cooler, and 12 psi of boost, at 4500 ft!

http://www.xmission.com/~dempsey/minivan/

---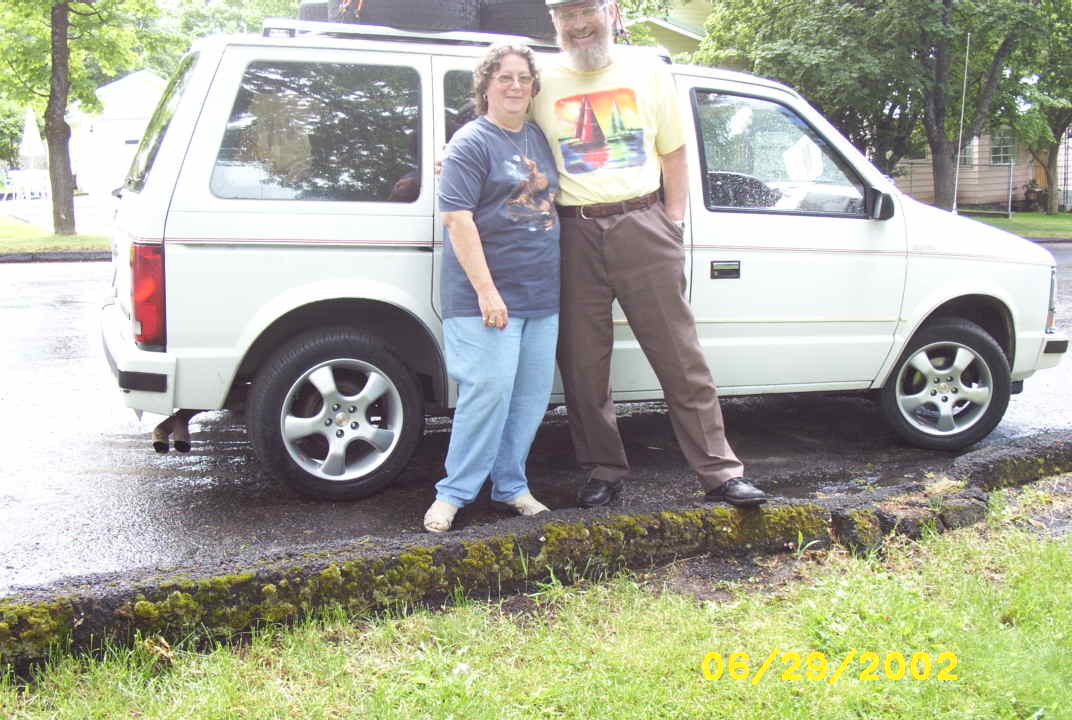 Bernie Willis <bernie914@sbcglobal.net>
It has a more or less stock engine but still surprises the heck out
of the unwary. I've rebuilt the front end, added Koni Shocks,
fat Sway Bars and Kumho ECSTA Supra 712 tires in 245/45/16
on 8" rims to improve the handling and traction.

---
Steve Knickerbocker
Steve.Knickerbocker@sematech.org
89 Voyager turbo 2.5

---
Paul Fosen
blk86trbo@webtv.net
1990 Dodge Caravan

---
Gary Donavan
gdonovan@idt.net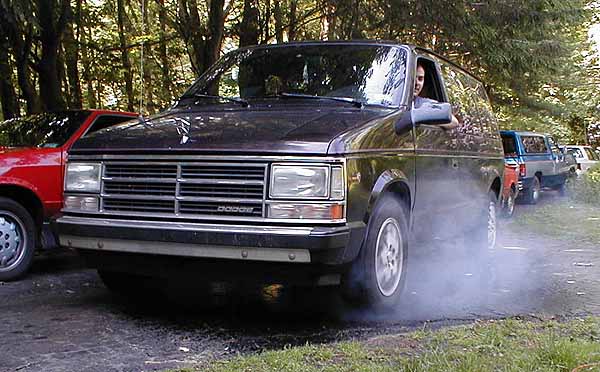 Dodge Caravan, 89 SE with 217,000 on the clock!
http://idt.net/~gdonovan/index.html

---

Josh Leib, Valparaiso, IN, http://www.geocities.com/csx145/Mini-1.html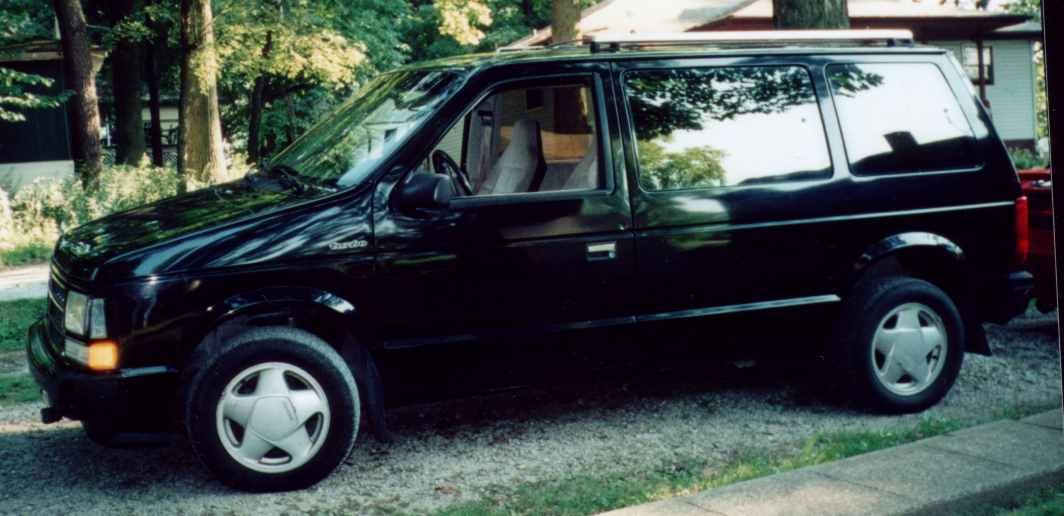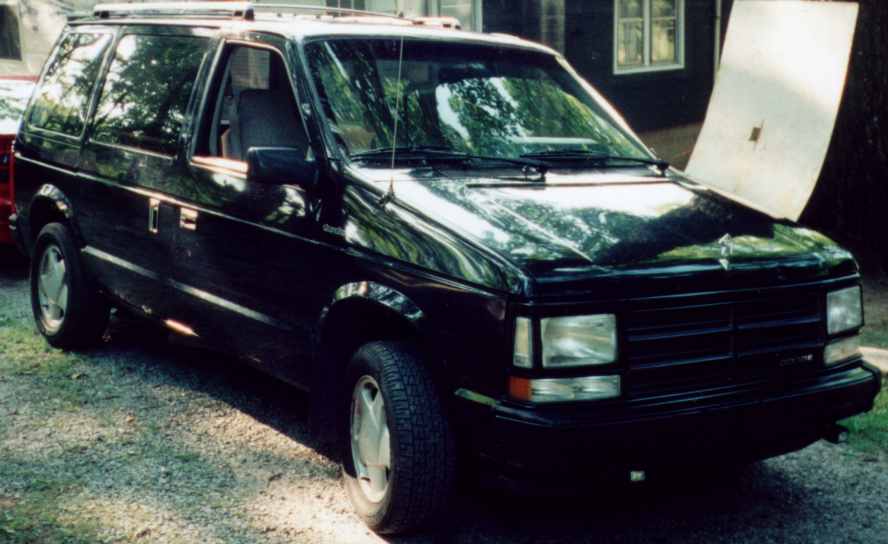 Mods are: 2 stage bleed, custom painted front end, 3" exhaust, pumpers, autometer boost gauge, cyberdyne A/F meter, stock TII Intercooler, and Infinity CD player from 98' Ram SS/T.

---

:
Dr. David A. Zatz
dave@allpar.com Dave's web site is www.allpar.com! CHECK IT OUT, the #1 source for Chrysler info!
1989 model, 93,000 mile turbo 2.5 with no modifications, but check out those lower body moldings, and this thing looks clean!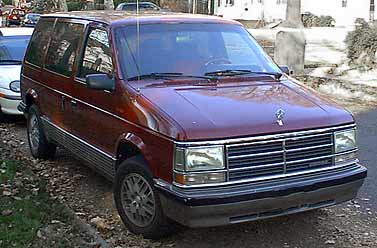 Marc
marc@misplaced.net
1989 Dodge Caravan Turbo, 15.829 @ 82.70 (and he let off the gas!)
only mods are a grainger set to 11-14psi, and full 3 inch
exhaust with a high flo cat and bullet muffler!

---

Dave Tekampe

90 Plymouth Voyager
Stock 2.5 TI
Factory A568 5spd
184k miles
Dark blue with Grey interior
Very few options, plastic door panels, crank windows, not even a remote rear hatch release.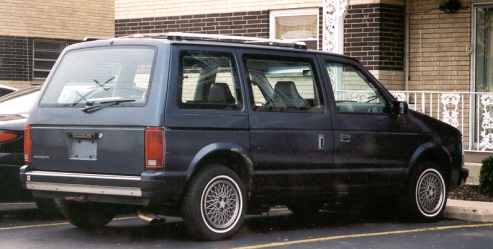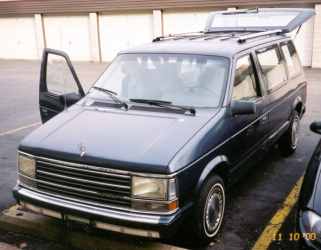 Click here to see the ORIGINAL window sticker for this van!

---

Dan Workman
Dan Workman <dworkman@means.net>
1990 turbo Caravan.

---

Martin Rempel
89 Voyager LE Turbo
193,000 Kms
Running about 12lbs boost, 2 stage control
best run: 15.6 @ 86mph.
2.32 60 foot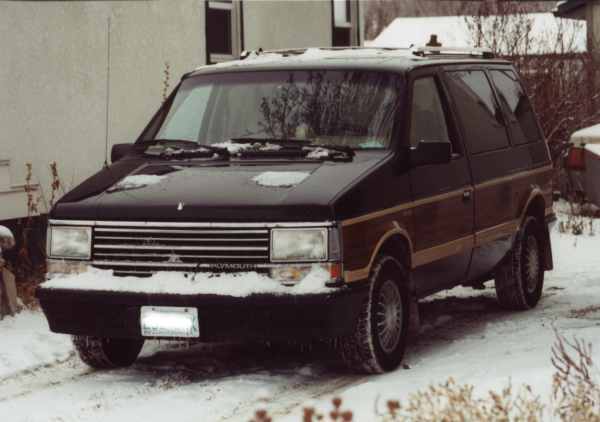 turbo_v@hotmail.com

---

Todd Dietrich
'89 Voyager LE Turbo, Memphis TN
dietro@sprintmail.com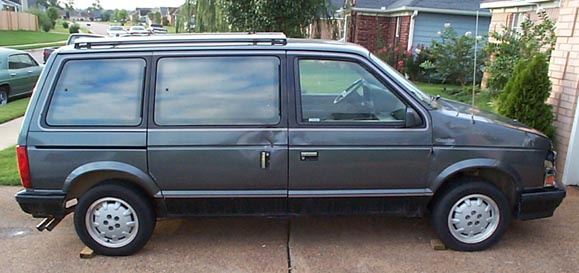 ---

Jeff King, Tampa, FL
89 T1 Voyager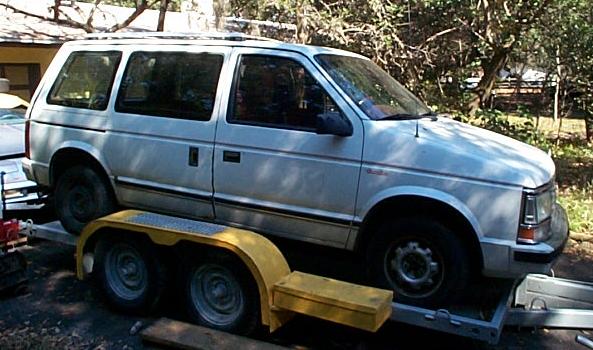 A real project van! Check out his web page!
JadedFonz@aol.com
http://www.geocities.com/theboostinside/future2.html
http://www.geocities.com/theboostinside/main.html (cool page)

---

Art Leong
89 Caravan Turbo
rt1092@nyconnect.net

---

Chryguy
chryguy@yahoo.com
89 Caravan Turbo, He ran a 15.44 at 87 mph at Rt 66 inJoliet.
Non intercooled, Only performance mods are 14 psi, 2.5 exhaust, K & N filter.
http://chryguy.freeservers.com/

---
ChrisFaulk , Lafayette, La, 89 Caravan SE with power windows, power locks, cruise, and 139,000 miles
http://www.geocities.com/chris_faulk/mini_van.html

---
Al Curtis
90 turbo Voyager
Vcrpro3@aol.com

---

Arlie Hart
Turbo Minivan
arlieh@us.ibm.com

---
Brian P. Minnebo sold his 89 Caravan Turbo van late last year to Rocky Johnson
It has a rebuilt A413, a rebuilt 2.5 w/o balance shafts with G-Head, and
Garrett T2 turbo.
Rocky Johnson
Rocky@HateComputers.Com

---

Glen Reifsnyder
glen_reifsnyder@mail.com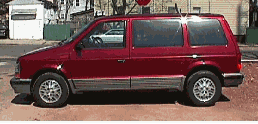 1990 Dodge Caravan ES -- Turbo 5 Speed (one of two made!)
http://members.xoom.com/es_caravan/

---
Carl Arnold
1989 Plymouth Voyager 2.5 Turbo, 180,000 miles and still strong.
bonzo@wayfarer1.com

---
Dan
1989 Caravan turbo 2.5 auto
TROOPER9C1@aol.com

---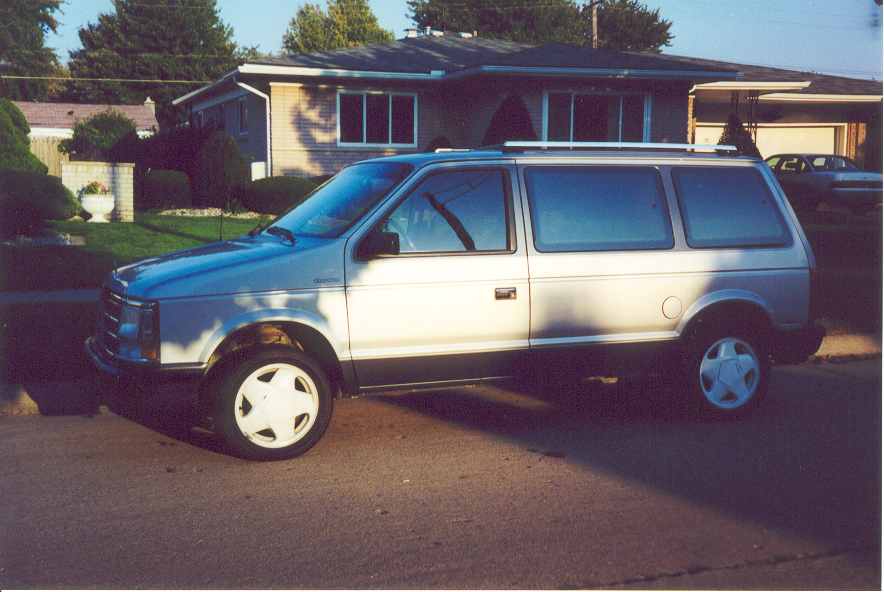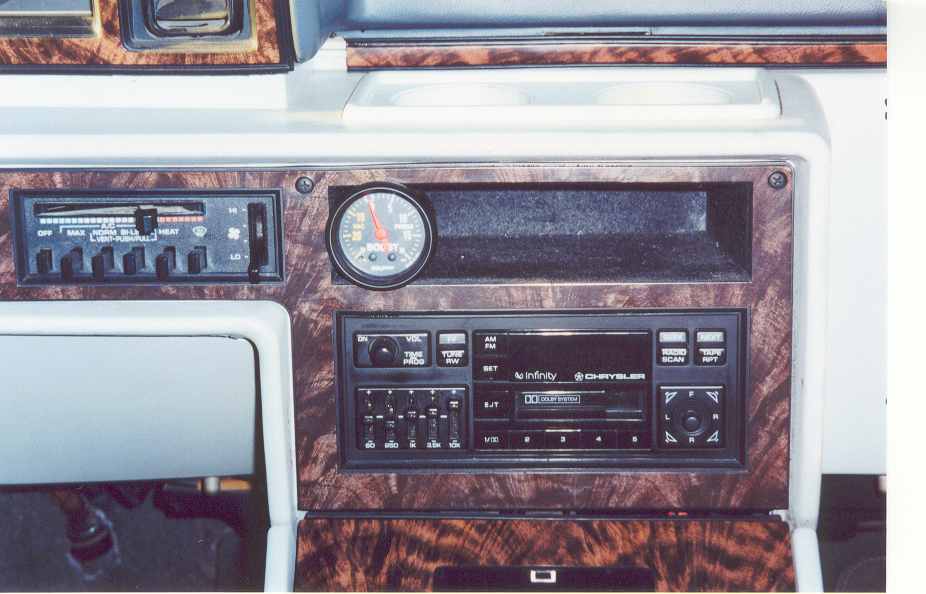 Bob Ball,
shelby7@home.com
89 Turbo 5-speed Caravan 2 1/2 exhaust (no cat) ultraflo muffler, '89 performance computer, 16'' pumper wheels, and a boost gauge

---
Chuck Green, owner of three Turbo Mini Vans!
Click here to go to Chuck's web page of his turbo mini vans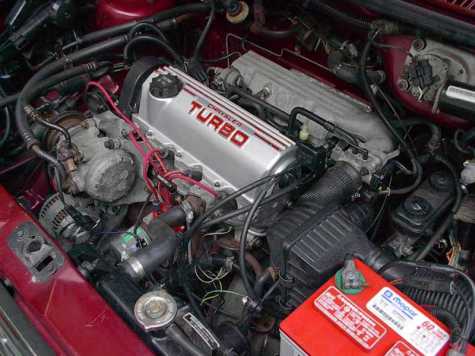 cgreen3@neo.rr.com The $300 project van, above. Auto Loaded!
K/N Air filter (drop in type),2.5 inch exhaust with Flow Master Muffler (no cat),Nitto Drag Radials (P205/45R15)
A pair of Gauges by Auto Meter--one for boost and a mech. water temp,switch to turn on the electric fan in the staging lane
The van is loaded with all options. The engine has 147,000 miles and may be getting tired! (click here for more info)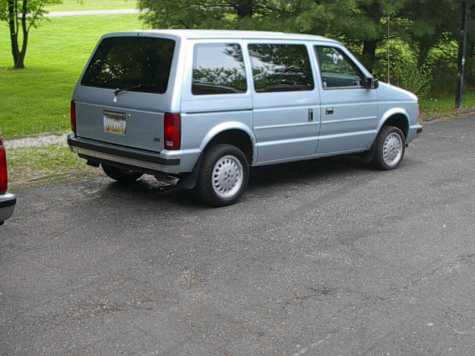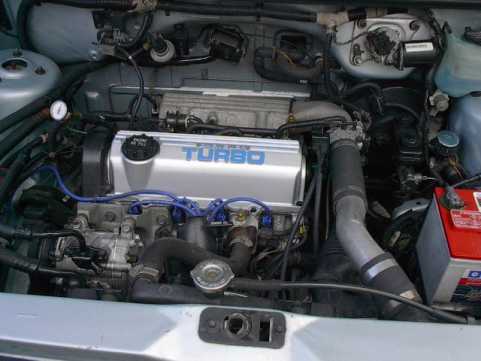 He also owns this other turbo van which he races, and is in the process of doing some heavy modifications to. 14 psi of boost, with slicks on the front! On 10-10-01 he ran a best as follows:
60' 1.930
330' 5.768
660' 9.063
mph 74.15
1320 14.361
mph 92.00
click here to see more of Chuck's Vans, and his latest addition, a Black Cherry Turbovan
---
Dennis L. Cote'
Sherry & Dennis<wecycle@telis.org
'89 Turbo Caravan SE Auto (165,000mi)

---
Lyle Reid
22ltrturbo@excite.com
89 Caravan, 2.5 turbo

---

Justin Kaszowicz: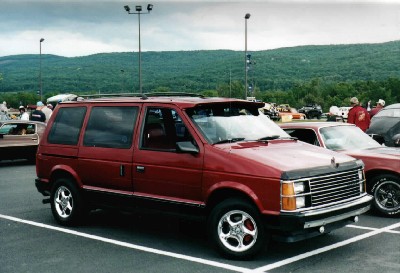 1984 Plymouth Voyager Le 5-spd 2.5 intercooled, no balance shafts,
5-angle valve job, complete rebuild, rebuilt Garrett T2. ( originally
carbed 2.2 )
www.personal.psu.edu/jjk287/voyager.html
---

Ryan Lada, Chicago, IL
rlada81@DSL.TELOCITY.COM
89 Turbo Caravan, intercooled! (from a Volvo)

---

Jason Jonelis
1989 Plymouth Voyager, Turbo, SE All Stock
Zhoelpqldk@aol.com

---

XLRanger@aol.com
Rick Mosley
1987 Caravan Turbo Mini Ram Cargo Van, Conversion to turbo from NA! (turbo not available in 87)

---

"James Vinzant" vinz3338@blkhawk.net
1989 plymouth voyager.
233,000 miles, engine has never been touched except for a new head, (overheated it).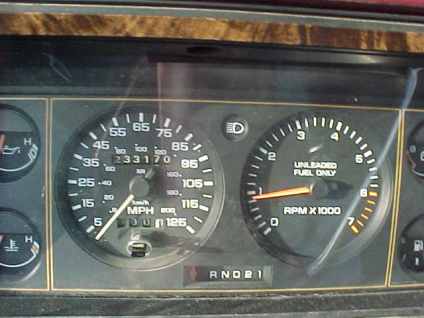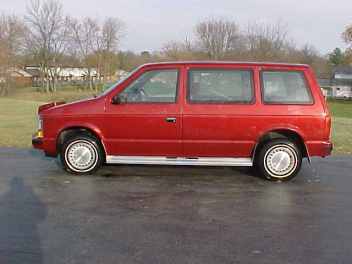 ---

Rich Southerland,
rsouther@alldata.com
89 Dodge Caravan, Turbo, SE. 130,000 miles, AT, good shape

---

Matt
Hummer Guy" <atiprogmc@hotmail.com
89 Plymouth Voyager 2.5L Turbo I, It has 139k originalmiles......it's dark blue.

---
Bryan Lugert (Bryan@HateComputers.Com)
1989 Plymouth 94,000 Miles, No Rust! and the Air works
Balance shafts removed, 16psi boost with Talon IC, working A/C. 15.17 @ 91.13mph on street tires.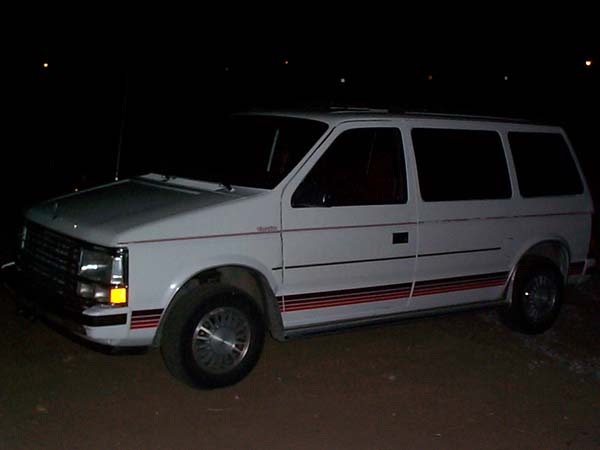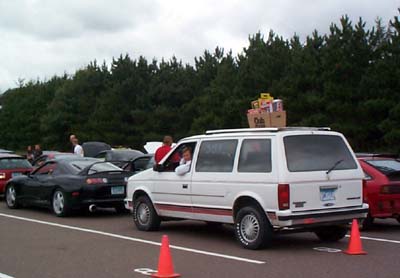 ---
Scot Murray <scootteris@sympatico.ca>

1989 dodge caravan SE,2.5 Turbo A413 auto,220000 on the Speedo
Daily driver
Installed head out of a 2.2 out of a Shelby Daytona, powder blasted it with the 2.5 roller cam and followers and lifters
gasket matched it Grainger valve installed and set up according to my boost gauge (out of the Daytona) I am getting 14 psi of boost
last year at St Thomas dragway it was running 17 seconds with a real bad slip into third gear
have since rectified problem but there is snow on the ground so no racing until May.

I have an A555 to put in An intercooler to install, 4 15 x 6 pumpers to install and last but not least all the parts now to do a Dempsey lowering job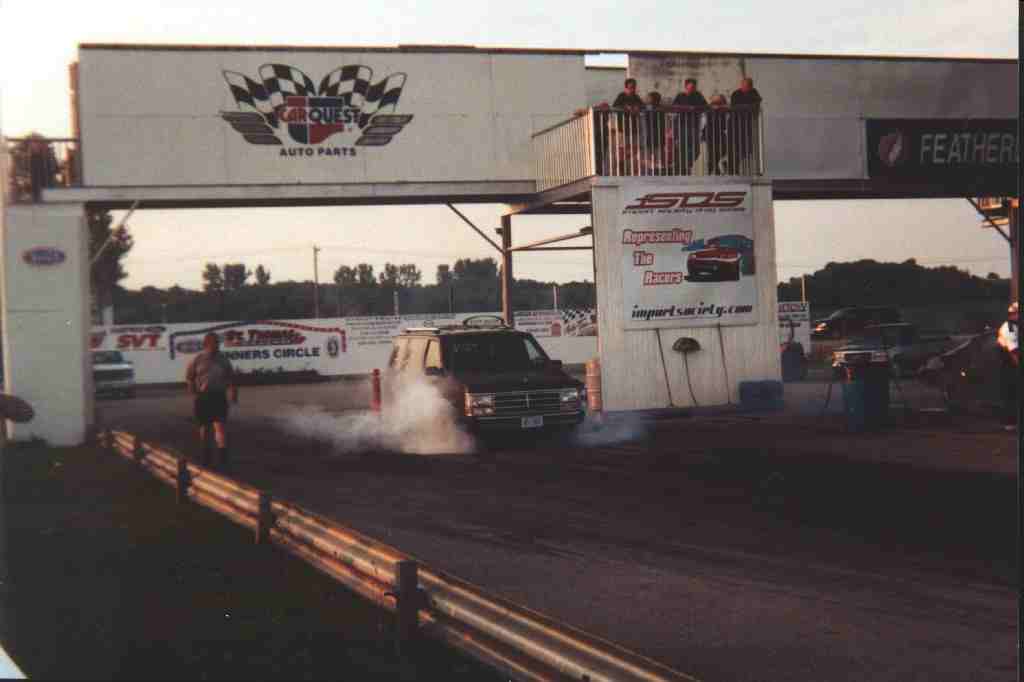 ---

89 Caravan ES Turbo. It is all original, and has the A-413 trans
and 2.5 Turbo. It is very clean inside, and freshly repainted out side. It will be
the DSV (Daytona Support Vehicle) that will go along with my two shelby Z's.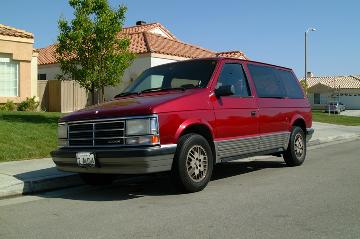 Thomas Powell
---
Mack59DAKOTA
1989 caravan,172,000 miles, T2 turbo, intercooler, and runs 15psi.
Mack also has a 96 Dakota that runs 12.89@106mph!

---
Lee Shuster
Checkout the extensive website devoted to the world's first 1993 (Gen-2); 2.5L,
Turbo II, water-injected, A-568, 5-speed, R-134a, air-bagged Voyager. Lotsa
pics in the photogallery, and lots of info for anyone else looking to make a engine swap to the turbo
http://hhscott.com/93tmv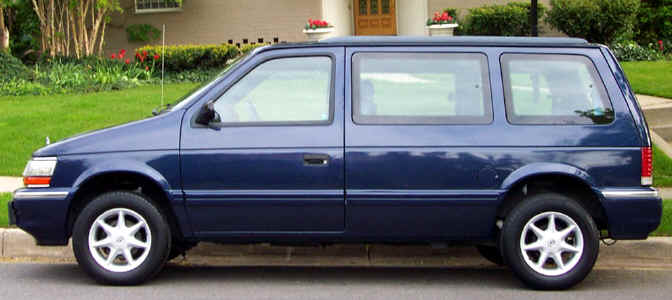 Lee Shuster's 1993 turbo van, ONE OF NONE!

---
noone uno
It is completely gutted. a K&N drop in filter, a GUSTIFIED air box. 225CCA lawn mower battery. 15PSI thought a grainger valve. removed the A/C 52MM throttle body talyor wires. vortech FMU with a 4.1 disk exhuast is cut at turn to go around gas tank. in front of resonator. wired fan to stay on all the time. boost and air fuel gauge. a RCI baja high back racing seat.
http://www.mustangstuff.iwarp.com/photo4.html