Modifications By Type:
Note: 100% of all work done by me!
(I did pay someone to mount the slicks)

Body and Sheet metal:
Rear seats and rear interior removed
Spare tire removed.
Running boards removed.
New dual core radiator from Modine
Dual transmission coolers from mini vans
New ball joints and axles
New 15 x 7 BBS Alloy Wheels with 215 60 R 15 H Speed Rated Generaltires
20 x 8 x 14 MT slicks (on the Strip) 3:02 final drive ratio, (Had togo up to 22 inch slicks 6/1/00)
AC and cruise control removed :-(



2.5 liter T1 Engine:
2 ½ inch open exhaust installed, JC Whitney. (update: When to full 3 inchall they way out the back, 6/18/00)
(update again 09-01-01, installed 3 inch down pipe at turbo)
Intercooler from Ford Power Stroke diesel installed Ford Cooler
Balance shafts removed. Click here to see how I did it!
Forward Motion Underdrivepulley installed Click to see the pulley Click to go to Forward Motion,
New timing belt, Alternator belt, and PS belt
;G; cast head, lightly ported and Gasket matched
SS valves, Bronze valve guides, LRE springs, Viton seals, To LRE
180 degree thermostat
Custom PCV Valve and Breather PCVvalve breather setup.


Forced induction and Fuel system:
HUGE intercooler from a 1999 Ford Power Stroke Diesel engine. part number F81Z-6K775-BA, list $295, paid $235
20 % oversize injectors, 42 pounds per hour (update went to 52 pph super 60 injectors 6/3/00) (update again 9-01-01, installed 75# injectors)
Adjustable fuel pressure regulator from Duane Snyder e mail:d-e-snyder@worldnett.att.net
Opened up fuel rail from James Reeves jreeves@fuse.net
Forward Motion Enforcer 2 Turbo with all new oil and coolant lines. .63 AR. Click here for pics of the turbo
Forward Motion ported exhaust manifold.
Custom intercooler piping from J C Whitney
2 extra fuel injectors from a VW Rabbit Click here for the "5th injector" pictures (added a 3rd extra injector, 5/20/00)
Hobbs pressure switch to operate extra injectors click here for a link to the Hobbs pressure switch
2 stage boost solenoid from a Isuzu Impulse, one direct to turbo, one through a Grainger valve (5Z763) To: Grainger
52 mm throttle body (swapped from my 87 Voyager) (NOT INSTALLED YET) (never installed, still using 47mm)
BIG K and N Cone filter Made for a full size chevy I think. Measures about 12 in long, 6 in dia..
I built and installed my own Blow Off Valve (click here for pictures) ( currently plugged off)
New 3 bar Map sensor from 89 turbo Trans Am 09-01-01 part number 16040749
New custom Computer from Rob Maxon (required for 75# injectors)09-01-01
255 LPH fuel pump 09-01-01

Gauges and Instrumentation:
Auto Gauge 20 psi Boost Gauge (Also a 30 psi gauge)
Auto Meter Water Temp Gauge
Auto Gauge 5 inch Tach with shift light
Cyberdyne Fuel pressure Gauge (sucks)
Cyberdyne Air Fuel Gauge Cyberdyne A/F Gauge
New 4 wire O2 sensor
Stock coil with new stock ignition
New stock wires and Champion plugs (installed Magna Core wires 09-01-01)
Installed new 3.5 inch dia. 30 in vac/ 30 psi pressure gauge. The 20 psigaugeis running at "OO" (in the word "boost")
Auto Meter EGT gauge 09-01-01


Trans axle:
Full Manual valve body from Turbo Action Turbo Action High Performance Transmissions
1535 Owens Rd
Jacksonville, FL 32218-1647
Phone: (904) 741-4850
New Clutch packs (4) and seals in transmission
New posi unit from Future Auto 978-256-3665, Pat Mical. Supposedly now as bullet proof as possible






I have installed a full manual reverse pattern CheetaValve body to tighten up the shifts.
Click here for pictures!
These pictures include some details on my modifications including the intercooler piping and PCV valve breather setup.

I built and installed my own Blow Off Valve. Clickhere to see it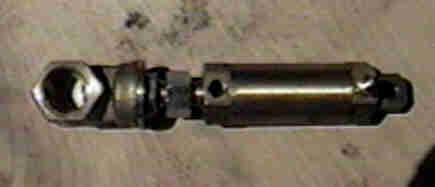 I installed a extra "5th injector" In the intercooler pipe, just in front of, and aimed right at the throttlebody. A pressure switch from NAPA was installedto turn the injector on at about 13 psi, alongwith a light on the dash to let me know it is on. Kind of neat, punch it,and at anything over 13 psi, you get a warning light on the dash. Click herefor a link to the Hobbs pressure switch I used.
With the Mitsubishi turbo, when I completely disconnectedthehose fromthe waste gate, I could get a good solid 16 psi of boost. Ineededmoreboost, So I have installed the Larger Enforcer 2 turbo. It spoolsup slowerthanthe mitsu turbo, but last year I could only run a 14.3 at 16to 17psi of boost,and now with the larger turbo, I run a 14.2 with only13psi of boost.
The larger turbo, combined with the larger injectors causea littlestumble at tip in, really slowing the turbo spool up time. I am workingon my launches, and it appears that I get my best times leaving the lineatabout 1/4 throttle, and slowly tipping the throttle in till it is floored.
I installed a solenoid valve in line with the Grainger valve. With the valve open, is allows full pressure to reach the waste gate. With the valve closed, no pressure reached the waste gate, and must insteadpass through the grainger valve, which controls how much pressure reachedthe waste gate. I mounted a push button on the shifter, and hookeditto the solenoid valve, and another light on the dash, so I can tellit ison.With the valve open, The boost stops at about 7 psi forsmooth launcheswith little wheel spin, then, I push the button on theshifter, and boostkicksup, the injector kicks in, and the dash lookslike a christmas tree!
8/6/99: I ordered a intercooler from a 1999Ford Power Stroke Diesel engine. It will be in next week. Itestedmy T2 cooler and it is loosing about 3 psi of boost. This coolershould have almost no restriction. It is part number F81Z-6K775-BA,list $295, paid $235 plus tax ($250). I will let everyone know ifithelps!
1/22/00 I have bought the Enforcer 2 turbo fromForwardMotion, along with the under drive pulley and ported exhaust manifold. I will be installing them soon in hopes of some real performance gains. Right now the van is stuck in a snowdrift........ and it has been below zero too much.
09-01-01
Feel like I am running out of fuel, Installed a custom computer, custom 75# fuel injectors, and a 3 bar map sensor for HIGH boost (28 psi) Also installed a EGT gauge to see if I was running lean. installed a full 3 inch down pipe off the turbo.
Click here for pictures of the NewEnforcer2 Turbo compared to the old Mitsu
Click here for pictures of the new underdrivepulley compared to the old pulley